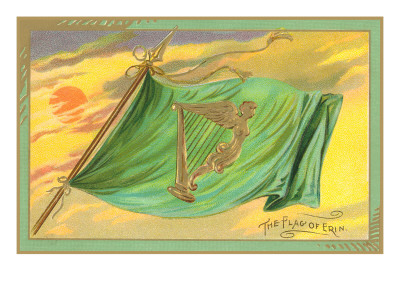 National motto  (unofficial): Éire go deo (Ireland forever) National motto: Fé Mhóid Bheith Saor (Sworn to be free)
It is the nature of the Irish to tell a good story.  Story telling is an art the Irish have perfected.  However; one can be fooled by such perfection, as is also the art.  How did this art transpire?  Kissing the Blarney Stone did it…
The Blarney Stone is a piece of bluestone on Blarney Castle.  As told by legend, when kissed, gives the kisser the gift of gab. This has been going on since 1446. The kissing of the Blarney Stone has a story.  Cormac Laidir MacCarthy, who built the castle, had a law case he needed help with so he contacted the goddess Chiodhna.  She did tell Cormac to kiss the first stone he saw in the morning on his way out, before court.  Well, of course he did, and amazingly he spoke so eloquently while pleading the case, he won.  
From all over the world people make the pilgrimage to kiss the stone.  John O'Connor Power's definition is "Blarney is something more than mere flattery.  It is flattery sweetened by humour and flavoured by wit."
Has anyone ever seen a Leprechaun? What does a Leprechaun really look like?
The leprechaun originally had a different appearance depending on where in Ireland  he was found. Prior to the 20th century, it was generally held that the leprechaun wore red, not green.  Samuel Lover, writing in 1831, describes the leprechaun as "quite a beau in his dress, notwithstanding, for he wears a red square-cut coat, richly laced with gold, and inexpressible of the same, cocked hat, shoes and buckles."  One needs to take note here.  Samuel Lover was an Irsh author, artist and musician.  His grandson, Victor Herbert, was co-founder of "The American Society of Composer, Authors & Publishers"; better known as ASCAP. 
The leprechaun is said to be a solitary creature, whose principal occupation is making and mending shoes, and who enjoys practical jokes. According to William Butler Yeats, the great wealth of these fairies comes from the "treasure-crocks, buried of old in war-time", which they have uncovered and appropriated.  
The earliest known reference to the leprechaun appears in the medieval tale known as the Echtra Fergus mac Léti (English: Adventure of Fergus son of Léti).   The text contains an episode in which "Fergus mac Léti, King of Ulster, falls asleep on the beach and wakes to find himself being dragged into the sea by three leprechauns. He captures his abductors, who grant him three wishes in exchange for release.
Do not confuse the Clurichaun with a leprechaun.  The clurichaun is considered by some to be merely a leprechaun on a drinking spree.
The very first ever St. Patrick's Day Parade was in Boston in 1737, hosted by the Charitable Irish Society. Not a lot of data to report on that parade, but New York City had… and has… the largest St. Patrick's Day Parade in the world, with over two million people attending and just as many  marchers in the parade. The Irish did show their love of country in 1762, as they marched right down 5th avenue and into the pub.  No Blarney here, tis truth!
2013 marks the 100th anniversay of the song Danny Boy which was first published in 1913.  Frederic E. Weatherley wrote the words in 1910 and set it to the Irish folk song Londonderry Air.  The first known recording was in 1915.   The tune itself has been set to hundreds of songs and Mr. Weatherley was an English lawyer who never set a foot in Ireland.
Saint Patrick was born in Britain as Maewyn Succat.  He was captured by Niall Noigiallach, taken back to Ireland and sold to a wealthy sheep farmer.   He had a vision and escaped back to Britain.  He changed his name to Patrick after he joined the Priesthood.  At age 60 Patrick returns to Ireland to convert the Irish people to Christianity.  His remains are at Down Cathedral in Co. Down. March 17, 461 A.D. honors his death.
It is legend that St Patrick did drive all the snakes from Ireland, when in fact there were never any snakes in Ireland due to the climate being too cold.  The symbolism of snakes was used in reference to Paganism.  St. Patrick converted the Druids into Christians, therefore eradicating snakes.
Saint Patrick introduced the Celtic Cross to Ireland, and used the three-leaf shamrock to explain the Holy Trinity: the Father, the Son and the Holy Spirit – three parts of one body.
A popular piece of jewelery in Ireland is the Claddagh ring, which comes with an interesting story! Claddagh is a small fishing village in Ireland, and the legend takes place there around 500 years ago. A family of fisherman were at sea when they were captured by pirates, who took them to Africa and kept them as slaves for goldsmiths. Some of the men died there, and some accepted their fate as slaves, but the youngest man was determined to return home to a girl he had fallen in love with. Every day, he stole a little piece of gold so that he could make a ring for his love, and eventually he escaped to Ireland with it. The girl had waited for him, and he gave her his ring – the Claddagh ring. On the ring is a heart, which represents his love for her. The heart wears a crown, which symbolises his loyalty to her, and it is held by two hands which represent their friendship. The ring is now very popular in Ireland for engagements and marriages, and it is often passed down through families. If the lady wears the ring with the heart pointing out, it means she is looking for her love, but if the heart points in, she has already found him.
In honor of St. Patrick's Day, March 17, 2013,  be certain to listen to all the great Irish music, get up and do an Irish dance. Recite some Irish poetry, see an Irish play, drink some Irish, eat some Irish food, read a book from an Irish author, but most of all, do not get caught celebrating by an Irish officer.!  It is told they are related to the fairies.   'Tis true!
For you can't hear Irish tunes without knowing you're Irish, and wanting to pound that fact into the floor."
Jennifer Armstrong,    Becoming Mary Mehan
La Fheile Padraig sona duit la ale-lah !